Welcome to the Chlamydia Biobank
The Chlamydia Biobank is the only dedicated collection of live Chlamydia trachomatis isolates, carefully selected to represent the full diversity of the species. The Biobank is hosted at the University of Southampton, in collaboration with the Wellcome Trust Sanger Institute. The Biobank was established thanks to funding from the Wellcome Trust Biomedical Resources Grant.
We sell live C. trachomatis isolates which have been genome sequenced, titrated and tested for Mycoplasma contamination. We can also sell heat-inactivated strains for use in diagnostics development by labs not equipped to handle the live organism.
Shuttle vectors developed in our labs for transformation of chlamydia can also be purchased from the Biobank, as can plasmid-free isolates of chlamydia which are easily transformed with these plasmids, without the worry of recombination with a native plasmid.
Additionally, we sell monoclonal antibodies that are specific to C. trachomatis, C. pneumoniae and to the Chlamydia genus.
We are adding new elements to the Biobank all the time, so if you have any suggestions or require anything not presented in these pages do get in touch and we will try to help you!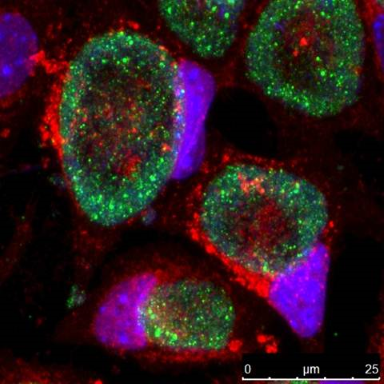 Chlamydia trachomatis genetically modified to express EGFP. Cells at 48h post-infection were fixed with 4% formaldehyde and stained with Wheat Germ Agglutinin Alexa Fluor 594 (Red) and DAPI (Blue). Images taken using a Leica SP5 Confocal Microscope. From Wang et al., 2013. doi: 10.1099/mic.0.036830-0